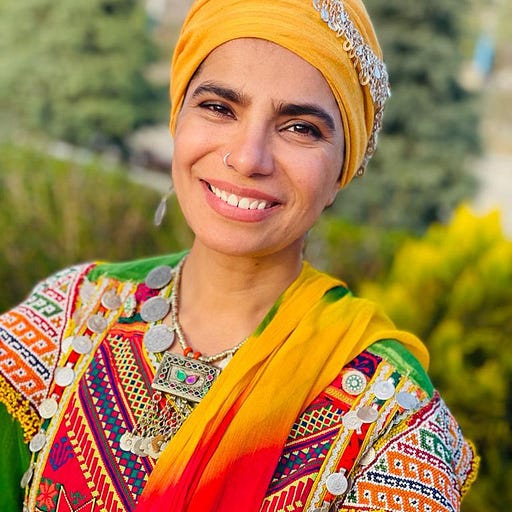 May 23 • 17M
DISPATCHES FROM AROUND THE WORLD: Surviving Taliban Detainment, Confessions of a Hitman in Mexico, and Elusive Justice in El Salvador
"Yesterday I was clever, so I wanted to change the world. Today I am wise, so I am changing myself."
― Rumi
SURVIVING TALIBAN DETAINMENT: ONE AFGHAN-CANADIAN'S SURPRISING STORY
A prominent face of Afghan social media, Afghan-Canadian Nadima, 38, disappeared after an altercation with the Taliban in her Kabul office on a bitterly cold mid-February evening.
"I had gone out for meetings. My team called me and said the Taliban was here at my office, and they want to take us all away for some questions. I told them not to move, and when I got back, I told the Taliban no, these people work for me, and if you take them, you must take me too," a defiant Nadima, who refused to show the authorities her phone despite their demands, tells me. "God forbid if something happens to them, how will I respond to the mothers and the wives?"
Yet, no Taliban would elaborate nor explain why the aid workers were being dragged off into the twilight.
Nadima's disappearance into the depths of detainment – along with several male colleagues, including several British citizens and one American, sparked international concern and outcry from her family abroad, given that the Taliban refused to comment on her case. No charges had been brought against the comedienne, who posts updates under the stage name of "Tesha De Waday" and operates the human rights NGO "Dream. Voice. Act."
"These arrests are a lesson to all foreigners in Afghanistan who are not obeying the rules," a Taliban official told the press at the time. "We have a government now, and just like in any country; the foreigners here must follow the laws."
However, Nadima's time in confinement was surprisingly serene: held in a lavish home as intelligence officials underwent "an investigation" in which no charges were ever filed.
"They were not disrespectful. They were not mean to me. They just put me there, and I was literally force-hosted in the house. I never made my tea. I was served tea every day. I was fasting every day, so (at night) they would send me lots of meat. I kept telling them I was vegetarian, so they brought me yogurt and salad and kidney beans," she recalls. "One of them watched one of my videos talking about liking peanuts, so they brought me a bunch of peanuts."
While the minutes melted into hours into days and then weeks, Nadima says she used the moments of quiet reflection to meditate once it was clear she would not be physically harmed.
"Fasting was a factor in making me strong. I used it to detox and connect deeply," she recounts slowly. "I became very zen, very calm, very relaxed."
Known for her blazingly bright mosaic of colorful clothes, Nadima, a softly-spoken ethereal figure in a conservative society who appears to float instead of walk, has long rattled the cage on the web.
"I have always spoken out about sensitive subjects. For example, if there is a situation in a village where a girl must be given up for marriage to repay debt, I will bring this up and ask why we are doing this to our own. I don't demand support; I challenge people. How do you call yourself humans? How are we doing this? My messages are always directed toward self-healing and self-reflection. So, people can reflect and take accountability for their actions," she continues. "Or why am I seeing men pee in public? All these millions of dollars have come into our country in the last twenty years, so why are there no public restrooms?"
Then on March 9 – some twenty-four days later – Nadima was impetuously shown the door. In the weeks since her release, the activist has come to believe she was framed by malicious gossipers claiming she was paying women to protest in the streets or forcing them to submit to prostitution for money. Nevertheless, Nadima says because her message is wrapped in healing and forgiveness – in looking forwards rather than backward – she has effectively been blackballed from much of the mainstream media.
"I wasn't fitting the narrative," she asserts with a shrug. "Women like me are neglected by selective feminism."
Despite calls from Ottawa to immediately leave after release, the persistent activist says she refuses to abandon her nation of birth. Born in the rolling hills of the sleepy Khost Province, her parents left in 1984 – in the throes of the Soviet War – when she was just one year old, absconding into Pakistan as her mother recalled wild dogs hungrily howling behind them. Nadima returned to the war-ravished country in the winter of 2019 for a trip that was supposed to be two months. Nonetheless, the beautiful albeit bleeding nation quickly became home – a berth of heartbreak and healing.
"I felt a tremendous sense of responsibility when I came here, to challenge traditional beliefs and taboo customs that are justified in the name of religion and culture," she notes. "So, I decided to bring all these things up – from arranged marriage, pedophilia, gender inequality and the things that go completely against humanity – in a humorous way. I wanted my videos to be a voice for people."
Just days before her arrest, Nadima took to social media to rebuke armed young Taliban fighters policing the clogged, dusty streets of the capital.
"While going around in the backs of your Ranger [pickup trucks], you should not point your guns at nearby pedestrians," Nadima proclaimed. "Also, do not rest your chin on your guns. You might fire it [unintentionally] and kill someone or harm yourself."
Yet since the Taliban took over in August, its top brass has been under fire from the international community for refusing to let girls above secondary education return to school. Nadima, on the other hand, views the controversy as an opportunity to "get rid of this old education system" and embrace online learning.
"If people in the world care about women's education, then put free courses online and give Afghan girls and women access to it. Then, we can learn from home," she surmises. "Make sure every woman has a phone or computer; it is very simple. Problem solved. Also, no one can stop a woman from going to a woman's house. Homeschooling is a popular thing in the West. I always encourage people to be independent in your thinking, be independent in your way of life and do not depend on the government or anyone for your life."
CONFESSIONS OF A U.S-TO-MEXICO HITMAN
Hidden in the sleepy depths of the undulating Mexican mountains, overlooking layers of dust and lush green, a longtime gang and cartel hitman – better known as a sicario – sits in the fading daylight. I can only refer to him as Ram, as he is one of the area's most known and intimidating figures across both sides of the border.
"This is how it works. Someone calls someone and says they have a big problem with someone, maybe it is a guy messing with their daughter, and they will pay $2000 for a punch in the face. That person says they think they know someone who might be able to help, and it trickles down," Ram explains matter-of-factly. "It isn't as organized as they show in the movies."
Nevertheless, he stresses that "even within that game, there are certain rules."
"You leave kids out of it, and you don't do anything that might bring heat to the neighborhood and other people," Ram continues. "The last thing we want is for the cops to come and prompt reporters to come in. So, the idea is to do this without the attention."
Born in New York and raised by a single mother in Brooklyn, killing has been a relatively small portion of his dark career. Most of the time, the task entails "beating the shit out of someone" or the more straightforward act of issuing threats and intimidation. In some cases, one works alone, while in other cases a team is required.
"People have this impression I am some big mafia guy," Ram says with a shrug. "But I just happen to know people."
With each passing year, cartel and gang violence continue to rise substantially despite decades of the Washington-initiated "War on Drugs." The result has been carnage all over Mexico, along with extortion and kidnappings to make money and avenge crimes committed by cartels and other gangs. Moreover, Mexico's police and justice systems have been undergoing reforms for years, but homicides still soar with over 100 killings per day in Mexico.
Yet it was Ram's experiences running underground security operations for an alternative, psychedelic-centered rehab in South America several years ago that ultimately changed the trajectory of his life running and gunning across the East Coast. Ram still takes on nebulous "assignments," mostly in and around the Baja California and San Diego areas, but he insists those jobs don't involve taking lives or causing physical harm.
"Sometimes I still wind up in situations, but it's mostly all intimidation. I have never had to physically put my hands on people in a long while, and I'm trying to get out of that life," he notes. "Coming down here has been a lifesaver; it has helped me undo a lot of the things that I have done. I am not a real emotional guy but taking that spoon has unlocked care about other people I did not have."
And by spoon, Ram means a spoonful of the powerful ibogaine plant medicine, a naturally occurring psychoactive substance derived from the iboga plant native to Central Africa. Deemed one hundred times more potent than its hallucinogen cousin ayahuasca, the alternative healing remedy has been used by native tribes and western neurosurgeons to treat addiction for decades. However, its anecdotal success also extends to assisting in the treatment of PTSD, depression, and anxiety, as well as transporting individuals into more intuitive and spiritual realms.
When in South America at the subterranean rehab for drug addicts, another associate insisted to Ram that it was mandatory for all those at the facility to experience an ibogaine trip.
"I wasn't interested in taking any drugs. I'm from Brooklyn, and I remember all those dope fiends in front of my building. I thought all those drug addicts deserved to die, that they were insignificant people and don't really matter. So, I never took any heroin; my mother always warned me I would be like the people on the street if I didn't eat my vegetables," Ram recounts slowly. "I always ate my vegetables."
Nonetheless, something shifted when he started to see so many addicts – the whole portion of society the sicario had effectively "written off" – turn their own lives around after just a single ibogaine flood dose.
"The guys said I couldn't be there unless I tried it for myself, and I told them I don't do mind-altering stuff. I am fucked up enough, but they said just one spoon won't kill you. I was kind of curious, so I took it," Ram says. "I guess that is where my life changed. Here I was, someone who beat people up for a living. I did all kinds of bad things and never felt sympathy."
Ram remembers that sunny afternoon with extraordinary attention to detail: lying down and envisioning all the vehement situations he had been in, his mind flashing back through the troves.
"I had a flashback of going up the subway stairs at Central Park, where I stabbed a guy. I remembered the hot blood falling on my hand, thinking what a strange temperature blood has, and I am feeling all the emotions, the sweat, the anxiety, and the sounds, and everything is so real," Ram tells me quietly.
"When I did those things, I felt nothing. My mind was blank. I had forgotten. And now I am lying there vividly remembering all the shootings and stabbings and feeling all that guilt at once. I accidentally started feeling a conscience."
Ibogaine gave Ram a sense of closure, he says, along with moving through the morbid motions of the past, and all he could do from there was move forward. The thrill once sparked by a slaying vanished instantly.
Still, Ram emphasizes that a single security project stands out among the madness and mayhem defined by his "profession" unofficially overseeing the security of the Occupy Wall Street movement during its 2011 heyday.
"I had never protested anything in my life. And yet this became the most exhilarating, empowering situation I had ever been in. Beating people up was nothing compared to this," he adds. "Being involved in something greater made me feel so alive. It wasn't about destroying the streets or doing violence; it was just getting people together to make a better world."
AFTER THREE DECADES OF WAR, JUSTICE REMAINS ELUSIVE FOR EL SALVADORAN SURVIVORS FLEEING TO AMERICA'S BORDER
A lone mango tree sprouts up from a sleepy street in Morazán, El Salvador. It is a chilling reminder of the exact location where twenty-four members of Maria del Rosario's family were murdered and mutilated during the civil war more than forty years ago. Their bodies were buried in mass graves beneath the ground, near the tree that still gives life.
"Some we never found," she says softly, staring at the time-weathered photographs taped to the tin wall of her cement home.
El Salvador descended into civil war in March 1980 when Archbishop Monsignor Oscar Romero, who appealed to the United States to stop financing the government's army, was assassinated. Ultimately, the brutal conflict was between impoverished Marxist rebels and the wealthy and repressive El Salvador government but the number of civilians caught in the crossfire is alarming.
Maria remembers how insurgents always came to her door, tucked deep in the rugged hills. They would demand corn, beans, and bread, even though they knew she couldn't feed her own children. However, she did everything they asked of her. On a Sunday morning, when she had to walk to a nearby village to see her family, and her husband stepped out to bathe in the river, the guerillas stormed her home and took her fourteen-year-old son Eugenio to training camp.
"I dropped all my stuff and went running for him. I begged the commander. I reminded him how I had given them food when I had none, so they would not take away my only son," Maria tells me, sobbing into a tea towel and pulling at chunks of her silver hair. "But (the commander) told me Eugenio could not leave; those wars were not won with bread and corn."
Eugenio survived the worst of the battlefield battles for six long years before he was killed by enemy fire hidden in the mountains. Maria suffered many miscarriages as the fighting raged, including a near-term stillborn that nearly cost her own life – and then saved her all the same.
"It was late in the night, and I could feel it happening. My husband ran out into the night and came back with a doctor from Mexico," she remembers. "They had to operate, and I had to stay alive for my other children."
The men made a bamboo stretcher to transport her to the makeshift clinic. In Maria's account, ethereal spirits helped her cross the frontline as she delivered a dead infant.
"They kept stuffing towels inside me, worried I would die from an infection, because the bleeding would not stop," Maria continues. "And then I passed out."
While she teetered on the edge of death cocooned in the remote medical clinic, the town of El Mozote was almost erased from the map, along with the cantons surrounding it, including her hometown of La Joya. Maria's wild hallucinations were jarringly interrupted by the sound of endless gunshots in the distance.
Radio transmissions and voicemails started trickling through the Mozote in the frigid days of early December 1981, warning of something deadly to come. In the early morning hours of December 10, the Atlacatl Battalion of the Salvadoran army invaded the sleepy town and proclaimed all the residents to be resistance fighters.
Death would not come quickly. For most, it was slow, sickening and intended to inflict as much suffering as possible over the next three days. The victims were overwhelmingly children and women. Boys and men were separated from women, girls and children. In a chorus of gunshots, the males were marched into church halls and abandoned houses, tortured, decapitated, or executed at close range.
Children were crammed into empty houses, and women and girls were routinely gang-raped and murdered. They were executed one by one. According to survivors, even animals were slaughtered before military members attempted to eradicate evidence by engulfing the whole town in flames.
One thousand people were killed in the Mozote massacres, at least half of them were children.
It wasn't until about seven weeks later that the massacre was brought to the attention of the world's press with articles in the New York Times and Washington Post. Nevertheless, the Reagan administration reported the following day that Salvadoran leadership had taken significant steps to curb the army's human rights violations and continued its brazen backing.
Yet this concept was far from the truth for many across the burning farmlands.
In her state of crippling pain, Maria hobbled down to the decimated village, only to see soldiers scattering the charred remains of young and old around the haunted mango tree. A burning smell of homes and flesh filled the air late into the night, she recounts, and children screamed in terror. The following week, Maria and her husband found the rotting remains of her sister-in-law – her dress pulled over her head, a grotesque reminder of the sexual abuse she'd endured before being murdered.
"When we started to bury the dead," Maria says in staccato, unfurling calloused hands. "I found my mother's head."
The massacres were just a portion of the protracted suffering laden upon the impoverished people hiding in and around the overgrown hilltops that became the guerilla stronghold.
"I am proud to say that I lived the entire war here; that I never left," Maria stresses, her face contouring as she shifts her weakening body, still tinged with shrapnel from a 1983 attack that struck her as she ran from the cave in which she was hiding.
Morazán is still plagued by a sense of timelessness, as if they will never really be able to emerge from the dark dormancy of war. But many survivors are now coming out from the shadows to share their stories.
At eighty-five, Virginia Luna Arguta's flashbacks are still raw, still bleeding – the kind of wound that never closes, that she no longer wants to close for fear of forgetting. Virginia lived a simple, albeit peaceful, life before the conflict. She never learned to read or write and instead was taught how to weave hammocks, sew dresses, and cook tamales and tortillas from a tender age to help her family get by. Virginia's arduous work continued even after marriage and having children of her own.
But when her sister-in-law was brutally slain while out collecting firewood and mortars crashed around her own flimsy farmhouse, a heavily pregnant Virginia embarked on the dangerous 190-mile journey through the winding slopes towards the Mesa Grande refugee camp in Honduras. She begged her mother to join, but she refused to leave the only home she had ever known.
Please follow and support my investigative/adventure/war zone work for LIBERTY DISPATCHES here: https://dispatch.libertyblockchain.com/author/holliemckay/
For speaking enquires please contact meta@metaspeakers.org
For those interested in learning more about the aftermath of war, please pick up a copy of my latest book "Only Cry for the Living: Memos from Inside the ISIS Battlefield."
If you want to support small business:
And also now available Down Under!
My new coffee table book with the amazing photographer @JakeSimkinPhotos is additionally available for pre-order, slated for release later this Spring: Afghanistan: The End of the US Footprint and the Rise of the Taliban Rule
Thanks again for your support. Follow me on Instagram and Twitter for more updates. Please consider a paid subscription to help me continue to do this work.