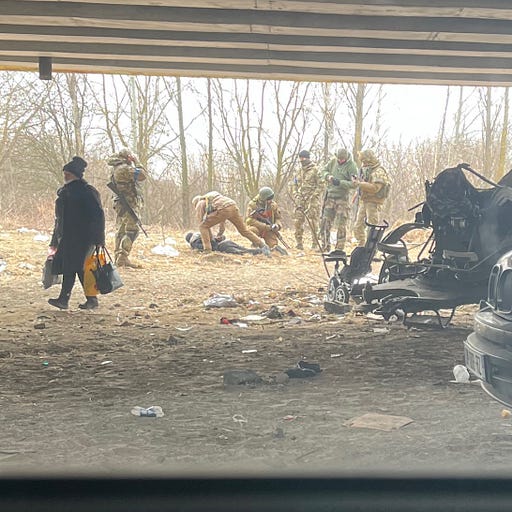 Mar 24
DISPATCHES FROM UKRAINE: Leaving children behind, Russian propaganda, military casualties, and Afghanistan bonus
Listen to additional audio commentary!
"A hospital alone shows what war is."
-          Maria Remarque, All Quiet on the Western Front
While back home in the U.S. for a break this week, these articles were written amid my time in Ukraine (and even a bonus from Afghanistan). Thank you again for all your support.
'I HAD TO LEAVE MY TWO CHILDREN BEHIND': UKRAINIANS FLEEING TERROR — AND THEIR RUSSIAN RELATIVES WHO DON'T BELIEVE THEM
Artillery thuds through the pearly afternoon sky, growing louder and louder, yet Maria does not flinch. The young mother sits alone cross-legged on the floor, cradling her new son Mark. The baby was born amid a hail of bombs and bullets in the small Kyiv suburb of Vorzel, just days into Russia's full-scale invasion of Ukraine.
She presses the baby, draped in soft blankets as the afternoon freeze sets in, close – smiling for a moment. But Maria's face falls when I ask gently if this is her first child."I had to leave my other two children behind when I went to the hospital to give birth," she stammers, her throat catching in agony. "And now they are under Russian occupation."
In addition to not knowing when she will see her other children again, Maria is unable to reach them, as all communication lines have been cut off, along with electricity, heat, and food supplies. Having just boarded a bright yellow bus to an open field after traveling down the intimidating humanitarian corridor, she has no idea where she will go from this "transition point" outside the city. Oleksandr, Maria's ashen-faced husband, joins her, knowing he could at any moment be conscripted into the military.
Yet they do not complain. It makes no sense to complain. Every single person's life has been dramatically upended and wrenched upside down. Everyone has lost someone; everyone has lost something. Regardless of how the forthcoming weeks, months or even years unfold, nothing will ever be the same again.
For Ukrainians, it's hard to grapple with the notion that such a vicious conflict has raged for a month as the world watches on, unable – or in many minds, unwilling – to shield and protect the most vulnerable from the senseless killing.
"We are doing everything we possibly can on the ground to keep them out. We will shoot down every aircraft we can, but we cannot stop them from bombing us from the air," stresses Oleksiy Kubelba, Head of the Military Administration for Kyiv Province. "But if we are allowed to close the skies if a no-fly zone is enforced, then no missiles and bombs can be dropped, and we can stop this killing."
Scattered across Kyiv, and along the main arteries in and out, are electronic billboards calling for "NATO (to) close the skies," followed by the chilling subheading: "We don't ask, we beg."
Imposing a no-fly zone has dramatic geopolitical implications, requiring NATO to shoot down aircraft while policing it and putting NATO countries into direct conflict with Russia. It's easy to see how that could lead to an all-out conflict with an erratic, nuclear-armed enemy. Yet to explain this to Ukrainians – traumatized civilians who are scarred by the images of bloodied babies and limbless children — feels hollow and selfish. To them, World War Three has already begun, and will only end the quicker that Washington and its western allies act.
Distressing, too, is the Kremlin brainwashing of friends and family on the Russian side. Not a day has passed in which a Ukrainian has not lamented to me that even photographs and anecdotes of the aerial assaults are not enough to convince relatives and acquaintances over the border of what is transpiring.
"My house was shelled, destroyed," one young survivor, Ana, pants breathlessly from a bunker on the edges of the capital, having escaped her home city of Kharkiv. "I called my sister and my cousins as it was happening, holding the phone out so they could hear the horrors, and still they did not believe me."
CLICK TO READ MORE ABOUT THE PLIGHT OF UKRAINIANS
IN UKRAINE, RUSSIA IS TURNING ON JOURNALISTS AND THE TRUTH WITH PERSONAL & PAINFUL CONSEQUENCES
Despite international law deeming press persons as protected, neutral players, legalities mean little to the savage Kremlin. It continues to bomb and blister innocent Ukrainians caught in the crossfire of this crushing conflict. The less outside news, the more Putin can perfect his utterly ludicrous propaganda. Anyone in Russia who dares use the terms "war" or "invasion" rather than the Moscow-approved "special military operation" is subject to fines and a 15-year jail term.
What is worse is how much of the Russian population remains blinded to the harsh reality as the conflict protracts into its fourth week.
One snowy afternoon in a muddy open field inside a Kyiv village, I meet a trembling 55-year-old Igor Sitalo, his head and hand wrapped in bloody bandages. He had just escaped the Russian-occupied city of Bucha, in which enemy forces had opened fire as he tried to escape – killing his beloved German Shepard and injuring the left side of his body.
"I sent photos to my family in Russia of my injuries," Igor says tearfully from inside an ad hoc medical tent. "And they don't believe me. They don't think a war is really happening."
I hear this same sentiment almost everywhere I go: frustrated Ukrainians unable to convince associates beyond the border of the butchery that ruins their world.
In the 21st century, it is hard to comprehend how a nation of more than 144 million people could be so blind to the realities of their leadership, oblivious to the tragedy unfolding right in front of them.
For months, Putin and his state-controlled media have pushed the narrative that they must "liberate" Ukraine from a "Nazi" regime, despite President Volodymyr Zelensky himself being a Jew.
To justify the actions and the thousands of Russian soldiers returning in body bags, the Kremlin cronies have latched onto the notion that Ukraine is riddled with U.S.-backed bioweapon laboratories preparing to attack Russia. Over the past week alone, Russian diplomats and its extension of state media have tweeted the term "biological" more than 600 times, with Russia ally China jumping in on the disinformation campaign by connecting this "fact" to the theory that the Covid-19 pandemic originated at a biological research center in Maryland.
Further, Moscow peddles the notion that Ukraine is testing lethal pathogens on its own people and expressing "extreme concern" that extremist, U.S.-backed Ukrainian groups are readying to assault Russian "liberators" with chemical weapons and then blame Moscow. The story version is particularly unsettling for international watchdogs and intelligence communities; it could mean that Russia is prepping some chemical onslaught to bring a dogged Kyiv to its knees.
Kremlin-linked accounts have also gone on the rampage against the evil, global "fake news" hucksters – tweeting the word "fake" more than 200 times and pushing it to become one of the top trending hashtags that often re-directs users to propaganda "fact-checking" websites. And after bombing a maternity hospital in the eastern city of Mariupol last week, Russian officials claimed that the searing images of a bloodied woman and her baby fleeing was the work of a "crisis actor."
Moreover, the Russian government has implemented mass crackdowns and social media censorship in case citizens are exposed to slivers of truth. Even as dozens of deeply traumatized civilians recount how they were thrashed and shot at by occupiers as they tried to flee, Moscow has distorted the reality with assertions that "racist" Ukrainians are the ones killing and wounding civilians.
Nonetheless, the churning of propaganda and the isolation of millions being spoon-fed ludicrous lies isn't the only component of this conflict that belongs to a different time and place. From the icy streets littered with concrete chunks as checkpoints and metal "hedgehogs" to repel artillery, to the mass migration of millions possessing little more than a few pieces of clothing and documents and the memories inside their minds, to the aerial bombardment and slow choking of significant cities, much of this Eastern Europe conflict is rooted in the Second World War.
CLICK TO READ MORE ABOUT RUSSIAN PROPAGANDA PLOYS
UKRAINIAN SOLDIERS BATTLE SEVERE INJURIES UNDER THE CLOAK OF OBSCURITY
Russian media has reluctantly acknowledged that some ten thousand troops have been killed in action (KIA) in less than a month – a revelation quickly deleted – but analysts both in the United States and Ukraine believe such a staggering number is an understatement. 
By comparison, the U.S. lost 2,500 servicemen and women – one-quarter of that number – over two decades fighting in Afghanistan.
On the flipside, Ukrainian President Volodymyr Zelensky last week admitted that at least 1,300 soldiers have died since the all-out invasion ignited on February 24, although statistics surrounding the dead and wounded have primarily remained under wraps so as not to dampen morale amid such a trying time. Death tolls have become propaganda pieces for all sides, with Ukrainians underscoring widely high Russian KIA numbers while keeping their own obscure, just as the Kremlin itself has admitted to only a small fraction of combat casualties to avoid skepticism over its own "special military operation."
While Russians are said to be cremating bodies in mobile crematoriums or not claiming their dead, Ukrainians are being confronted daily with images of funerals and family deep in mourning, with high-profile personalities – including prominent actor Pasha Lee – dying in combat, driving home the searing reality of war.
Nonetheless, the number who have sustained severe injuries – but survived – on both sides is likely high beyond comprehension.
Military hospitals across Ukraine are typically tightly guarded and off-limits and dangerous places in and of themselves as Russia bombs and blister medical facilities, especially those deemed to be military infrastructure. Yet one cannot turn a blind eye to the many thousands battling life-debilitating injuries under the veil of secrecy.
On a cold spring afternoon, I am introduced to 29-year-old soldier Oleksii, born in the small town of Kaniv in the Cherkasy region. While assisting with evacuation efforts as a military paramedic on the periphery of the capital just over two weeks ago, serving in a frontline defense unit shielding Kyiv, he sustained a piercing bullet wound to the abdomen.
"And then it was me who had to be evacuated," Oleksii notes regretfully. "But thanks to the surgeons of the hospital where I was operated on, my recovery is going in the most positive direction."
There is no self-pity, no regret over the injury that almost took his young life.
"The majority of Ukrainians don't hesitate to join the ranks of the Armed Forces and the Territorial Defense for a decent rebuff to the enemy. The rest of those who remain supporters of the 'Russian Peace' should either get used to living in a free civilized country or let them go from here to those places where they will live better on their opinion," he scoffs calmly. "We do not need all this here; we are not slaves and supporters of the 'Soviet Union.' And if they do not like living in a free, developing country, then let them go in the direction of 'Russian warship.'"
CLICK TO READ MORE ABOUT UKRAINIAN CASUALTIES
INSIDE THE SECLUDED AFGHANISTAN SPACE WHERE CHINA PLANS TO REAP BIG MINING REWARDS
It requires hours of driving through narrow, bumpy tracks southeast of Kabul, cast by white bedsheets used as Taliban flags, blown-out former military bases and numerous checkpoints manned by weathered Taliban fighters.
And then it emerges – the once almost unreachable Mes Aynak mine – adorned by pools of sunlight across the arid landscape, illuminating ancient firepits and stones once melted to make coins, chiseled squares of earth creating bunkers where townsfolk slept and prayed, and piles of earth ascending to enshrine buddhas and temples reminiscent of pre-Islamic eras of antiquity.
"Nothing has been (mined) yet. China hasn't done anything except for basic investigations," says Atal Mushwanni, the Taliban's new Head of Information and Culture for Logar province. "But we want to start soon."
Although it means "little copper mine," Mes Aynak hosts the planet's largest, more unexploited copper deposits, to the value of 11.08 million tones and an estimated worth of $50 billion. Yet, it is also home to Central Asia's most critical nuggets of archeological value –and the two may not go hand-in-hand, as cash-strapped Afghanistan plunges deeper into economic catastrophe under the Taliban rule.
Abdul Shukoor, the Head of Logar's Archeology Department – who has been working on extraction sites for six years under the previous government and was brought back by the new Taliban regime, notes that they are ready to resume evacuations – with 24 engineers on-tap and 200 daily laborers identified – if and when World Bank funding comes through.
"There has been no damage to the archaeology yet since they have only done risk mitigation for the mining so far," Shukoor explains, pointing to the world of chiseled sand-colored buildings and firepits belonging to the Zoroastrian peoples.
Even while the U.S. taxpayer was funding the frail security apparatus amid the surge of the elongated war, China's Jiangxi Copper Co Ltd and the Metallurgical Corp of China (MCC) inked a three-decade lease at the cost of $3.4 billion for the coveted mine in 2008.
Yet, China – which was quick to establish tight ties with the Taliban before and after its government takeover – may finally have its shining opportunity. In September, the Beijing-linked companies stated they were again "monitoring the situation" and preparing to resume construction as soon as possible.
Mushwanni claims that the mining and archeology departments are working together to craft a plan in which both countries can prosper – but points out that the financially beleaguered country intends to start the copper mining process "as soon as possible."
"We are trying our best to manage both at the same time, and no decisions have been finalized yet. But the mining department is working hard on a plan for extraction,  to make it the basis for the economy," he continues. "The discussions with China – and other countries – are not finalized. But if China follows the policies which the Islamic Emirate has set for them, they can come and start mining. But if they don't follow the policies and agreements we suggested, then other countries can come forward and start investing in this. We don't have an issue with that."
And indeed, the value of their lease in today's current climate is worth far more than could have been imagined when the United States first invaded in 2001. Back then, there were no iPhones, no Tesla vehicles. Cut to two decades on, and modern society is fundamentally fueled by high-capacity batteries, and high-tech chips critical for smartphones, making Mes Aynak – and much of Afghanistan – an ever-more potent parcel.
CLICK TO READ MORE ABOUT AFGHANISTAN'S AYNAK
For those interested in learning more about the aftermath of war, please pick up a copy of my latest book "Only Cry for the Living: Memos from Inside the ISIS Battlefield."
Also if you want to support small business:
And also now available Down Under!
Thanks again for your support. Follow me on Instagram and Twitter for more updates. Please consider a paid subscription to help me continue to do this work.