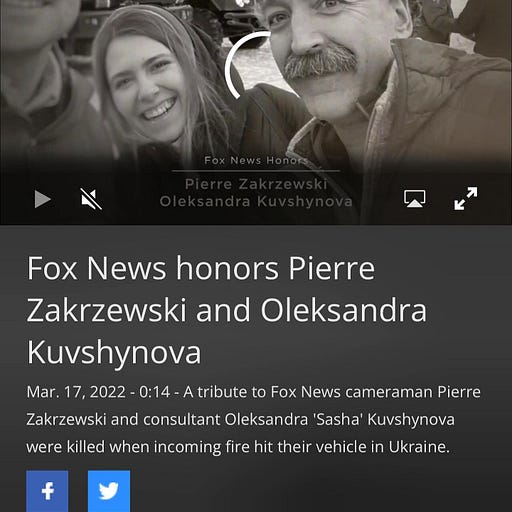 Mar 20 • 18M
DISPATCHES FROM UKRAINE: What Russian Foot Soldiers Do Inside Occupied Terrain, Saboteurs Using Ambulances, Top Ballet Dancer Becomes Military Medic, and Behind the Death and Destruction
NEW! Now with additional commentary audio from Hollie
"But everyone cannot be there, and that is why photographers go there - to show them, to reach out and grab them and make them stop what they are doing and pay attention to what is going on - to create pictures powerful enough to overcome the diluting effects of the mass media and shake people out of their indifference – to protest and by the strength of that protest to make others protest."
James Nachtwey
As a writer I most often work alone in war zones, but when I do get a chance to work with videographers/photographers, (like the awesome @jakesimkinphotos) or the ones I simply get to know in the field, are without a doubt usually the most seasoned and knowledgeable of all.
Reporters might be the face of stories, but cameramen and women are the lifeblood that brings what we see to the masses. They are the first people I turn to for advice, logistics, a deeper understanding of the big picture. They are the true eyes lighting candles in the darkest of places. Pierre was one of those special humans. Oftentimes, it's those behind the lens who go deepest into the line of fire with little credit for their work. They (and producers) are the unsung.
WHAT RUSSIANS DO WHEN THEY OCCUPY A CITY
Ihor Kovtun, a 27-year-old Sushi chef from the small city of Bucha, spent much of the past two weeks huddled in a bunker beneath a kindergarten with his wife, Luda and dozens of other relatives, friends, and strangers, unsure when and if he would see the light of day as Russians assaulted and took over his hometown.
"From the first day of the war, I tried to drive to my work to get food, but I saw a giant pillar of smoke, and the windows to our home were shattered with secondary explosions," he said from an undisclosed location in the western part of Ukraine. "After a few days, I saw the column of Russian tanks heading toward Bucha and heard the missiles falling. We gathered a few of our things and ran to the kindergarten."
The ensuing days were the stuff of nightmares: the endless echo of automatic rifles in the air, the crack of artillery close by, and finally, at some point in the first week of March, the lights and electricity going out and never returning. On that day, Kovtun's father-in-law came down the bunker steps to inform them that Russian tanks were all over their once-sleepy city, and it was evident Bucha had fallen out of Ukrainian control.
"We were thinking about what to do, most of the families with us had gone, when two Russian soldiers with white bands tied around their right arms came down and forced their way in," he recounted. "One of them had the biggest gun I have ever seen, maybe more than a meter long."
Kovtun said the men were gruff, demanding to know the identities of who remained in the frigid basement and whether any of them had attended anti-Russian protests in the local town square in the lead-up to the invasion. The next thing the soldiers did, Kovtun says, was to seize everyone's phone, first to check them and then keep them for themselves.
"I think they used the smartphone to contact their own families," he continued. "But if anyone went outside the bunker to smoke and use their phone, the Russians would be watching and either shoot at them and take the phone or just take it."
However, when it was clear no military personnel were hiding in the kindergarten – just perturbed and frightened Ukrainians – their demeanor slightly softened.
"The Russian soldier told my wife and me that we should not be afraid because they are not here to kill people, but to protect them and save them," Kovtun said. "They said they would come back with humanitarian aid."
When a child asked the occupiers if they were Ukrainian or Russian, they responded that they are "Slavic" – referring to those from Russia, Belarus and Ukraine. He also points out that the Russians claimed to have crossed from Belarus with only tasers and pepper spray, calling for rifles only when they were fired upon by Ukrainians – which he underscores was a lie.
The civilians were cautioned not to leave the shelter because "Ukrainian were attacking and would fire on them." Meanwhile, those who had been there since day one of the war were started to get deathly ill from the bitter cold and stench, with no means of medical attention or aid.
Thus two more days of living in squalor went on in which the families left had no food, no water and even had to use a bucket to go to the bathroom; the same Russian soldiers returned with a few Ukrainian dairy products such as yogurt and sour cream they had stolen from a grocery store or home. The children were fed first, followed by the women, the older men and then whatever scraps were left the men consumed.
For several days, one of the women had been asking the guarding Russians if they could return to their homes to collect some more belongings and personal items, to which the soldiers refused. Finally, one snapped and said if the woman asks again, they will take all the men from the bunker and line them up in the street and proceed to shoot them randomly in an apparent game of Russian roulette.
However, according to multiple civilians who have escaped the Russian-occupied city in recent days, it seemed the soldiers did not have a clear idea of what to do or how to run the embattled city once they had announced a territorial victory. Yet one thing was clear: the conditions in occupied terrain are confusing, terrifying, filled with death and destruction.
CLICK TO READ MORE ABOUT HOW CITIES ARE OCCUPIED
RUSSIAN SABOTEURS NOW USING UKRAINIAN AMBULANCES TO INFILTRATE CRITICAL SITES
Under the late morning light, Georgii Kalchenko, 27, stands by a pool of blood crusted into the earth, explaining in staccato his friend and fellow fighter now battling for his life in an undisclosed military hospital nearby.
Earlier this month, three Russian missiles targeted the TV tower across the street in a quest to cut off communications. Instead, however, one rocket mangled the Holocaust Memorial nearby, and the other ripped through their makeshift garrison.
"He was standing here on night watch when the rocket struck, and the bricks from the building fell," Kalchenko says, staring absently into the faded crimson splash. "A brick pierced his head."
It is just one of the many untold tragedies of this war, how rapidly life changes for so many as the world watches on in hapless horror. The injury is also the work of calculating Russian "saboteurs" who scour critical areas and determine target coordinates for attacks and assassination efforts. Thus, a critical function of the likes of Kalchenko and his team of Territorial Defense Forces (TD) is to root out these enemy infiltrators scattered chiefly in and around the capital to collect critical information.
Their movements of modes of sabotage are becoming ever more sly but seem to lack quality internal communication.
Kalchenko tells me that a stolen Ukrainian ambulance of about fifteen Russian nationals tried to enter their base just two days earlier after hearing gunfire and false communication that their fellow Russians were engaged in a gun battle against Ukrainians.
"They thought that Russians had overrun the base and came to join the fight," he explains. "But they were caught by our police and are now in intelligence custody. But getting around in ambulances is their new way now."
CLICK TO READ MORE ABOUT THE DAILY DUTIES OF THE TERRITORIAL DEFENSE FORCES
UKRAINE'S TOP BALLET DANCER BECOMES TOP MILITARY MEDIC
It's a world away from the stage lights and tights, but Ukraine's top ballet dancer Oleksii Potiomkin is just at home holding bullets and bandages, as he is holding a barre.
"I have always been interested in history and military issues, but only at the amateur level. I have my own weapon, and I know how to use it, but one thing is to shoot at a range, and another is a terrible real war where you can be killed," the National Opera of Ukraine principal artist tells me. "The first days of the war, I was shocked and could not believe everything was really happening, even though I knew this day would come."
Immediately after Russia launched a sea, air and land invasion in the dawn light of February 24, Potiomkin headed straight for the Territorial Defense Forces – the civilian support wing of the Ukrainian Armed Forces. Potiomokin recalls the terror of those first early hours as explosions erupted outside, as he hid with his family in the home of a nearby military veteran before taking to the streets of his own accord.
"We patrolled our area with him and other citizens of neighboring houses. Then, when I took my family to a safe place, I joined the medical battalion, where I do certain tasks at the leadership's request,' the ballet-turned-medic continues. "My family understands everything and accepts my choice. So I stayed in my hometown and am doing at least some good and worthy work for our common victory of the Ukrainian people."
When the Kyiv native isn't tending to the wounded and weary, he imagines life after the war – a return to the life he cherished before.
"I really dream of seeing my family again," Potiomkin says wistfully. "I want to return to the stage to do art and create."
Indeed, the conflict – now stretching into its fourth week – has caused a crater in the global dance world, with the companies of Eastern Europe the epicenter of the ballet arena. Foreign dance company premieres at the Bolshoi and Mariinsky theaters in Moscow, and St. Petersburg has been shuttered indefinitely. The French artistic director of Stanislavsky Ballet, Laurent Hilaire, resigned over Russia's brutal invasion and Washington DC's Kennedy Center cut the cord on the planned April engagement with Mariinsky.
CLICK TO READ MORE ABOUT THE ARTISTS-TURNED-FIGHTERS FOR UKRAINE
DISPATCH FROM UKRAINE: DEATH, DESTRUCTION AND TEARS
Weeks into the full-scale Russian invasion of Ukraine, much of the historically treasured country has already been transformed into a crater of death and destruction: mothers and small children slaughtered inside a maternity hospital, tiny girls with limbs lopped off by mortar fire, the elderly and disabled left to die beneath the debris of their once-safe home, and millions either displaced within the war-torn country or scrambling across borders for some semblance of safety.
The small city of Irpin, on the edges of the coveted capital, has become something of a sinister microcosm for the Kremlin's war against its neighbors, an almost-bitter victory for unfettered war crimes. Much of Irpin has been blown to bits, with civilians trapped inside as Russian soldiers march forward, cutting survivors off from life-saving humanitarian aid, medicines, food, water, electricity, communication, and heating despite the sub-zero temperatures.
Over the past week, I have watched day-by-day as the wounded and weary are extracted from what once constituted their entire lives and escorted across a blown-up bridge toward the city, carting what little they have in small suitcases or just a simple plastic bag.
Ukrainian forces destroyed the crossing for Kyiv in an attempt to halt Russia's advance, cutting off the main artery that tanks would have taken to reach the capital. However, hardly a day has passed since then that the Russians have not fired artillery into the wreckage, aiming directly at those who were running desperately to get to relative safety.
"I hope you are taking notes for God's tribunal," one elderly lady, her face a map of wrinkles and distress, says softly as she struggles to cross the cauterized Irpin Bridge.
Ever since Moscow's sea, air and land assault ignited against a smear of early pink light on February 24, officials have insisted that only military infrastructure would be targeted. That has proven to be a blatant lie as hundreds, if not thousands, of Ukrainians are killed in cold blood each day. Accurate figures are challenging to come by amid the jarring fog of war. Yet, the United Nations estimates that more than 600 civilians have lost their lives with hundreds more severely wounded.
Every day, I witness non-combatants being pulled from their guttered and hollowed homes and urgently rushed to medical care. They are the very elderly, the disabled, small children, and confused pets.
On another day, a young woman weeps so controllably that she cannot breathe or speak, clutching a trembling puppy and dropping to her knees in a half-prayer position. She eventually tells me her name is Luda and that her mother went out for bread two days after the invasion and did not come home. She rushes frantically into an ambulance, an attempt at modesty before her emotions shatter into a million pieces. I remind myself that all these people have been violently extracted from their homes, forced to run from their livelihoods and everything they have ever known, and still have nowhere to go.
Later, a man with a shrapnel-shattered eye dropping down his face shuffles along the dusty road with his wife. Neither seems to know if it is day or night. I wait with them for a moment as the muted gray sky darkens into dirty snow falling to the ground.
"Why?" the old man asks me. "Why are our brothers doing this?"
CLICK TO READ MORE ABOUT WHAT IS HAPPENING ON THE GROUND
For those interested in learning more about the aftermath of war, please pick up a copy of my latest book "Only Cry for the Living: Memos from Inside the ISIS Battlefield."
Also if you want to support small business:
And also now available Down Under!
Thanks again for your support. Follow me on Instagram and Twitter for more updates. Please consider a paid subscription to help me continue to do this work.